Save time and money with our toolbox from Zimmer
News
27 September 2022
Save time and money with our toolbox from Zimmer
The patented shock absorbers from Zimmer patented shock absorbers are a favorite with customers who demand extreme durability and quality. The quality is so unmatched that the shock absorbers were manufactured and assembled by hand until early 2020.
However, this process was costly and lengthened the delivery time considerably. Zimmer therefore decided to automate production and optimize the design of the unique shock absorbers, making the products much more accessible to everyone. At the same time, the development ensured a wide range of products to cover all needs.
Industrial shock absorbers from Zimmer Group
With an industrial shock absorber from Zimmer Group, you're guaranteed up to 10 times service life compared to other manufacturers. You also get a quality component with minimal wear and maintenance. The shock absorbers are made of stainless steel V4A / AISI316 and can also be purchased with organic, food grade oil that is H1 certified.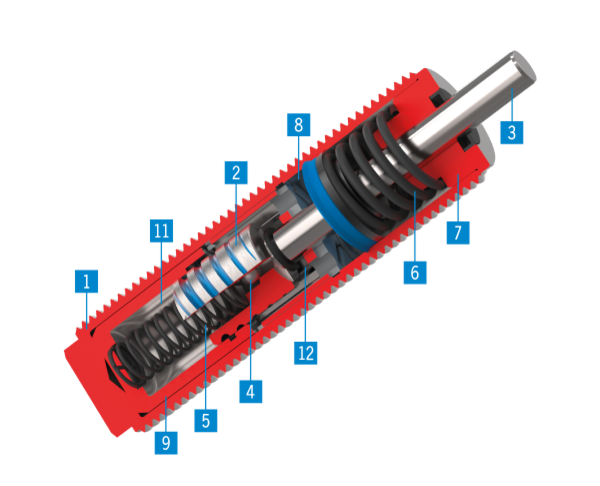 Standard Zimmer shock absorber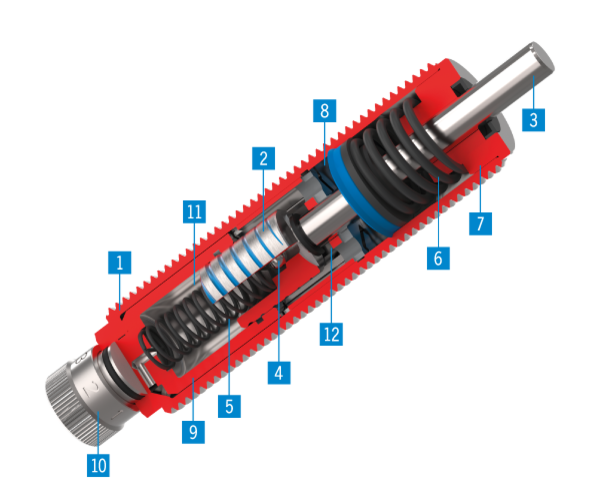 Adjustable Zimmer shock absorber
1) Stainless steel case
2) Damping piston with worm groove
3) Stainless steel piston rod
4) Contra valve 
5) Return spring
6) Pressure compensator  
7) Fixed stop
8) Oil reserve 
9) Pressure chamber 
10) Adjustable screw 
11) High pressure chamber 
12) Low pressure chamber 
Standard shock absorbers are available from M4 to M45, with different hardnesses and stroke lengths. There is an extensive range of scrapers, (e.g. for the wood industry, or metal industry), as well as bellows etc. The adjustable shock absorbers are available from M8 to M36 and can be set in 5 different damping levels. Level 1 provides the hardest damping and level 5 provides the softest damping. We have put together a toolbox with the most common sizes included.
The technology behind Zimmer shock absorbers
Zimmer shock absorbers are based on their patented design a so-called spiral groove principle. This ensures an optimal damping performance and a unique lifetime of the products. The damping curve is an expression of how well a shock absorber slows down a mass. The advantage of Zimmer shock absorbers in this context can best be illustrated by the diagrams below.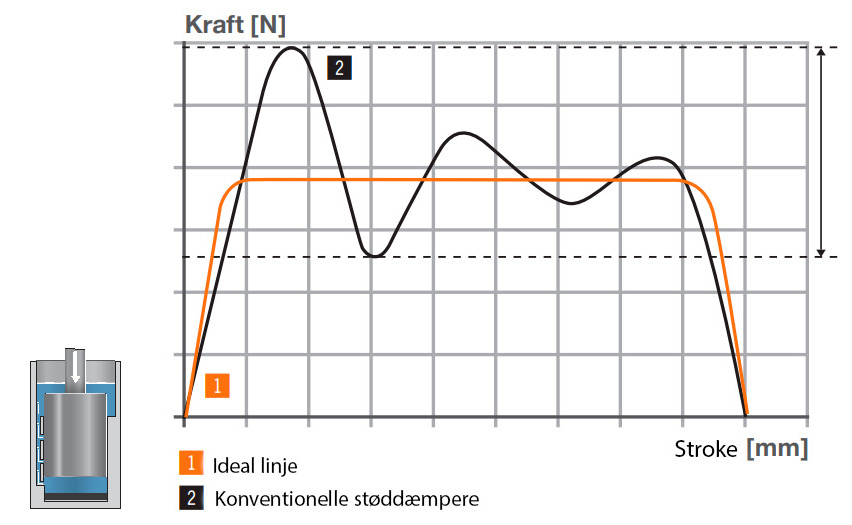 The black curve in this diagram shows how difficult it is for a standard shock absorber to decelerate and stop a given resistance.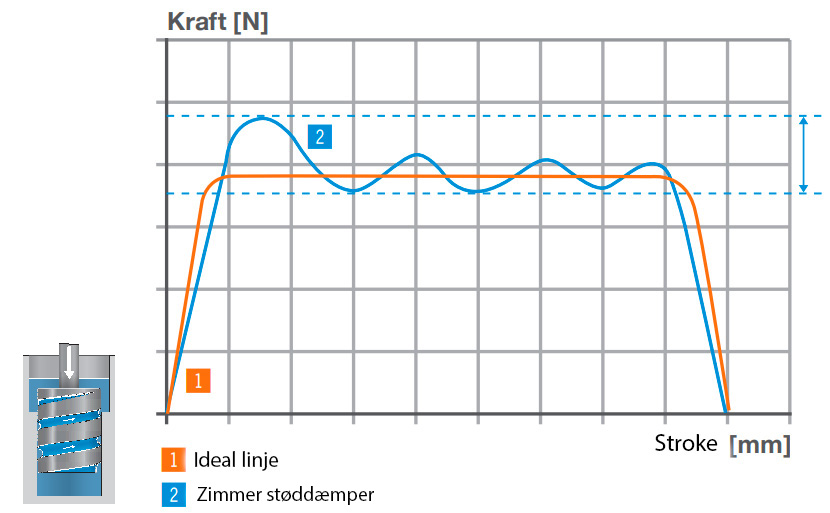 For comparison, the blue curve in this diagram shows how Zimmer's patented shock absorbers slow down and stop a given resistance. Here it is clear how close Zimmer products come to the optimum damping level which the orange line represents.
We have put together a toolbox of 10 different shock absorbers, covering the most commonly used sizes. The shock absorbers are all adjustable, allowing you to quickly test your way to the most optimal damping level. This way, you can order the right product from the start and extend its life by choosing the right shock absorber for the job.
The adjustable shock absorbers are equipped with a 5-step scale you can easily read and convert to a specific product. You also have the option to fine-tune the shock absorbers between the 5 marked levels and use them directly in your solution if you need a shock absorber with a very specific damping level.
We are proud sponsors of Ellen Hjøllund Klinge, who took 9th place in Madison at the Senior World Championships in track cycling.
Read more